The 2023 Feast of Tabernacles
Branson, Missouri
Start planning to come to the Feast in 2023!
A New Updated location for the Feast is:
September 29th at Sunset
to
October 7th (Last Great Day)

Welcome to
"The Church of God Ministries International"
Feast of Tabernacles 2023 in Branson, Missouri.

The Ozarks has a beautiful natural beauty that makes you think of what a millennial setting might be like in the future. For eight days we will be gathering as family to worship our Great Creator God, and to experience a foretaste of the Wonderful World Tomorrow, a time when Christ will rule.

We will be coming together as family renewing old friendships and making new ones we will be rejoicing in our fellowship with our Father and our Savior and Elder Brother Jesus Christ. As we rejoice together, let's remember our calling and the meaning of why we attend the Feast. We are rehearsing for future events yet to come. We hope you will thoroughly enjoy the Feast and that you will be strengthened spiritually by the sermons and fellowship.
Contact Information
Tom Kerry
or
Joe Shuster

Steve Councell

Bobby Webre
Speaking and Activities Schedule
Speaking schedules, bible studies, family events and other Feast-related activities listed here are subject to change.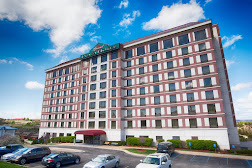 Grand Plaza Hotel
l245 N Wildwood Dr.
Branson, MO 65616
PHONE: 417-336-6646
Website: http://www.grandplazabranson.com
Located in the Heart of the Entertainment District in Branson, Missouri. The Grand Plaza Hotel is a full-service hotel and conference center that offers more than 200 upscale rooms in the heart of Branson, Missouri. We're centrally located to some of Branson's biggest shows, family fun attractions and the best of shopping and dining in Branson!
Still not convinced that The Grand Plaza is the finest hotel in Branson?
The Grand Plaza won the 2017 Certificate of Excellence from TripAdvisor.
The www.grandplazabranson.com Inn is the closest lodging to all four major theme parks: Silver Dollar City, Celebration City, White Water, and Shepherd of the Hills. The combination of 210 immaculate, comfortable rooms and our legendary Ozark hospitality makes the Honeysuckle Inn & Conference Center perfect for family vacations, reunions, business meetings or quiet getaways. You can kick back and truly enjoy the Branson experience. The Honeysuckle Inn and Conference Center is independently owned and operated. With business practices built upon strong family values and a commitment to guest satisfaction, the Honeysuckle Inn & Conference Center provides Branson Lodging that exceeds all expectations.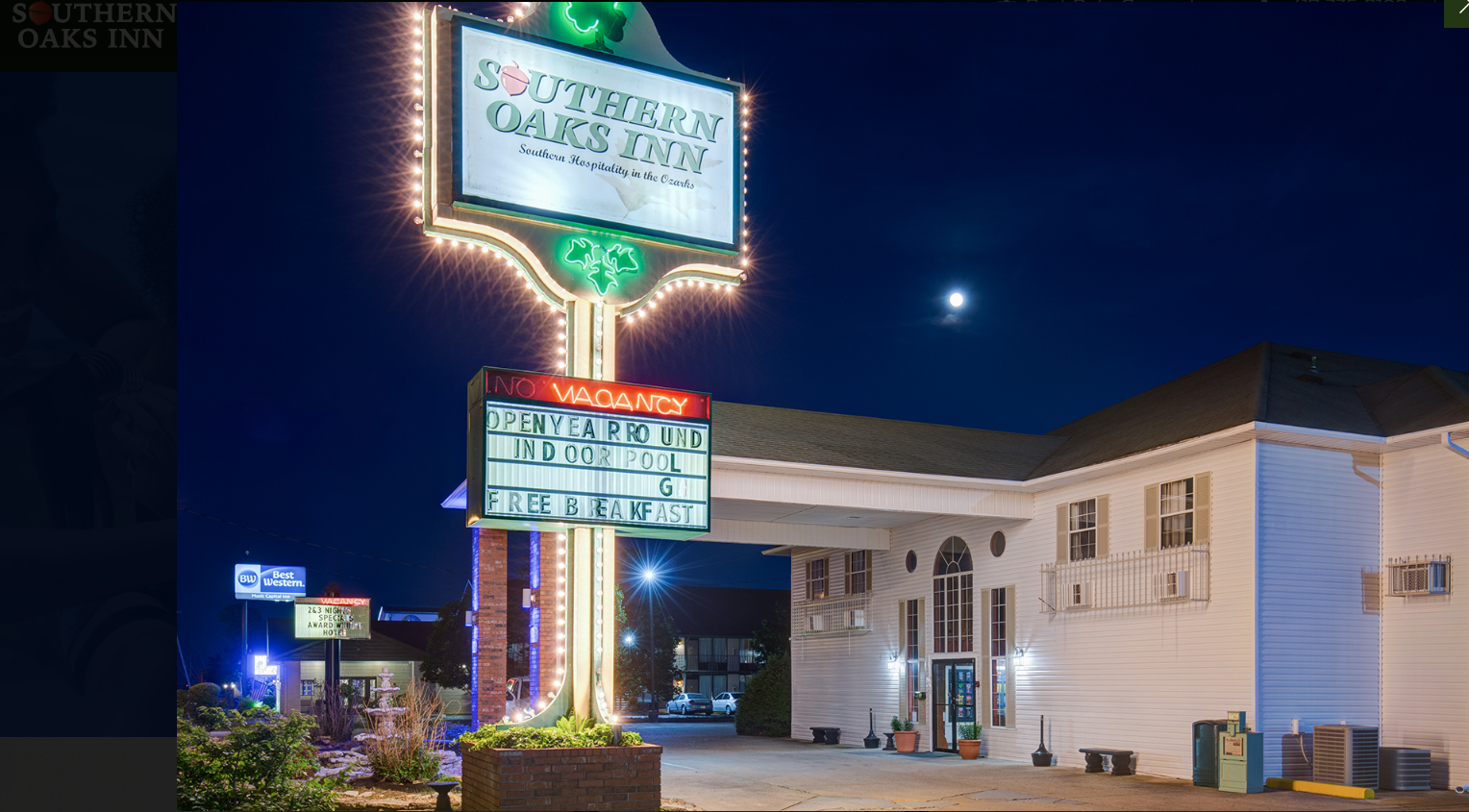 Southern Oaks Inn
3295 Shepherd Of The Hills Expy
Branson, Missouri 65616
www.southernoaksinnbranson.com
Phone (417) 335-4108
Room Rates: Must let them know you are with
The Church of God Ministries International (COGMI)
to get these rates
Terrific Rates: $59.00 Per Night plus tax
THINGS TO DO IN BRANSON

HIKING TRAILS

Fall is a beautiful time to walk through the woods in the Ozarks. Several hiking trails ranging from short easy trails to long more difficult trails are available.

The Paul and Ruth Henning State Forest, on Hwy 76, just west of the "strip" with trails from about 1/2 mile to 1.6 miles in length, gives a good view of the diversity of the Ozarks.

Shepherd of the Hills Trout Hatchery offers several nature trails, ranging from 1/2 to over two miles. Some meander along Lake Taneycomo, while others go through the Ozark hills and woods.

Table Rock State Park has trails and paved roads, which lead to picnic areas and the lake for family enjoyment. 14 miles north of Branson on Hwy 65,< Busiek State Forest has trails ranging from 1/2 mile to several miles in length.h.

Hercules Glades Wilderness Area, in the Mark Twain National Forest, is about 40 miles from Branson. This is a rugged area, and hiking trails, while well worn, are unmarked. A close-by hiking trail is located on Fall Creek Road just south of the junction of Hwy. 76 near the east end of the "strip".

Lakeside Forest Wilderness Area is a beautiful area which runs down to Lake Taneycomo. It is easily accessible and has a parking lot at the entrance to the area.

FREE AND ALMOST FREE THINGS TO DO

COLLEGE OF THE OZARKS

This unique campus houses several interesting sites.

Edwards Mill is a working water-powered stone mill in which students grind whole grain flour and meal (for sale at the mill along with baked goods).

Friendship House hosts a restaurant serving three meals per day, prepared by students, and also a gift shop.

Ralph Foster Museum

$6.00 for adults, Seniors 62 or older $5.00, under 18 free, is dedicated to the history of the Ozarks region and houses many fascinating artifacts, including the original Beverly Hillbillies car.

DEWEY SHORT VISITOR CENTER

Features nature exhibit rooms and free interpretive films about Table Rock Dam. Tours of the powerhouse and dam are offered, cost is $14.50 Adult (ages 12 and up), Child $8.00 (ages 6-11) Children under age of 6 not permitted in dam. Outside the center several trails wonder through the woods and a number of benches sit in the shade of large trees.

ROARING RIVER STATE PARK

This park, about 30 miles west of Branson offers many scenic areas. Roaring River Spring has a daily flow of 20.5 million gallons of water. Situated in beautiful, rugged terrain, the park features a nature center, trout fishing stream, numerous hiking trails, and a lodge and restaurant.

SHEPHERD OF THE HILLS
TROUT HATCHERY

Thousands of trout from fingerlings to "lunkers" fill the hatchery, which produces 1 million trout each year to supply area lakes and streams. Visitors can view and feed the fish by walking along the stock pools. Guided tours, video program, and nature trails are also available. Small children love it! 417-334-4865

STONE HILL WINERY

During the free hour winery tour you'll discover how wines are made, prohibition winemaking folklore, plus more fun and surprises. The winery bottler gives everyone an inside look at Stone Hill's heritage of winemaking excellence. 417-334-1897
BASS PRO SHOPS in Springfield

Don't be deceived by the name. It's really a museum within the largest sporting goods store you have ever seen! Includes a four story natural stone waterfall, 140,000 gal. aquarium system with hundreds of game fish. View fish feeding in the huge aquarium from the underwater auditorium. See a 30,000 gal. saltwater aquarium, dozens of "stuffed" animals in natural settings, and the world's largest sporting goods store.

Branson now has a Bass Pro Shop although not as large it's a great place to visit.

BRANSON LANDING

a great place to explore shops!
Places to Eat
Branson Shows and Attractions